Do You Use Oracle Essbase?
Dodeca Combines the Best of Hyperion Financial Reporting, Planning & Smart View Features into a Single Spreadsheet Management Platform
Why companies that use Essbase and own Smart View, HFR or Hyperion Planning love Dodeca
Business users love spreadsheets because they're familiar, flexible and ubiquitous. However, spreadsheets frustrate managers because it makes governance of shared drives full of Excel files difficult. Also, spreadsheets' increased risk-of-error oftentimes leads to poor data quality and inevitably to productivity losses.
Dodeca will save you time & money, while reducing spreadsheet risk. Schedule a demo to learn how.
LexisNexis realized annual savings of 13,000 hours, or 50%, producing management reports

Wells Fargo estimates savings of $14,000,000 for CCAR reporting to the federal government

Kroger estimates retail operation cost reductions of $200,000,000 over 3 years

HBO shortened a monthly close task from days to minutes
Oracle Essbase users automate their hyperion reporting, planning and analysis business processes with Dodeca
Oracle Essbase reporting is simplified by Dodeca. Your company will no longer have to change your business processes to fit Essbase – Dodeca makes it possible to make Essbase fit your reporting & analysis processes.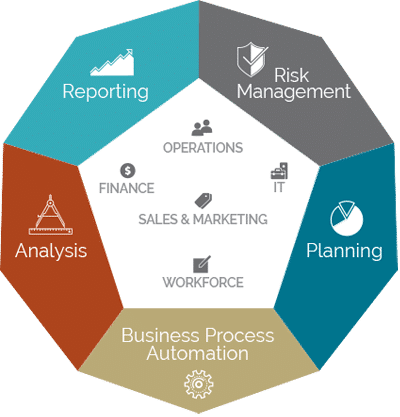 Dodeca provides the flexibility to build applications that fit the needs of your business without being forced to compromise requirements. Dodeca is used for many types of applications:
Revenue & Expense Planning
Workforce Planning
Capital Planning
Merchandise Planning
Cash Flow Analysis
Regulatory Reporting
Variance Analysis
Sales Analysis
Labor Reporting
Forecasting
Annual Budgets
Manage reports & spreadsheets containing Oracle Essbase, HFM, SQL & other data sources in a single platform that functions like Excel
Request a demo from one of our Dodeca experts to learn how we save companies across industries money, time and resources by providing Oracle Essbase users a familiar spreadsheet based platform to manage, report and drill through data from Oracle Essbase and other data sources, such as SQL databases.
For users of Oracle Essbase, the Dodeca Spreadsheet Management System combines the best features of Smart View, Hyperion Financial Reporting & Hyperion Planning into one spreadsheet management platform that looks and feels like Excel.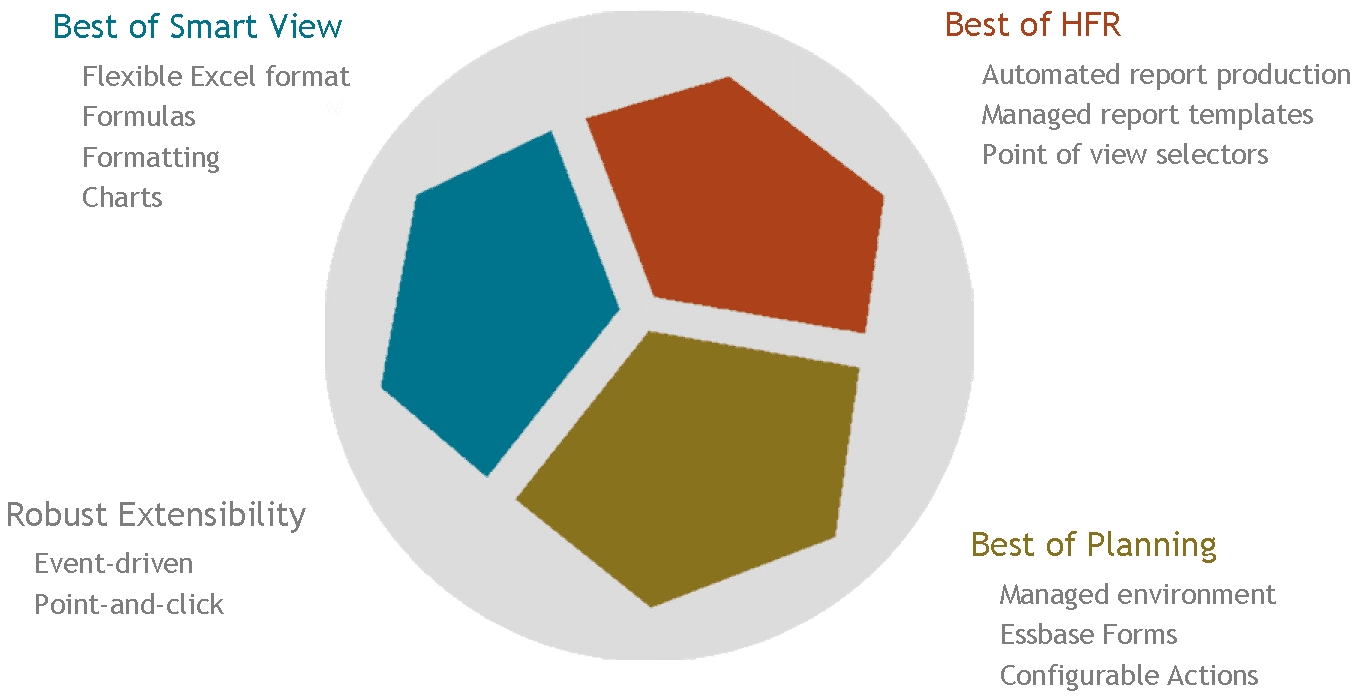 Features of the Dodeca Spreadsheet Management System
Features of the Dodeca Spreadsheet Management System include:
Simplified navigation

Essbase read/write capabilities

EssJet Technology – Concurrent Essbase Retrievals

HFM Connectors

Excel Workbook Analyzer & Cleaner

Excel functions and formatting

Drill Through to Everywhere

Audit logging

Configurable toolbars

Comments and annotations

Relational Database Read/Write Capabilities
Dodeca is different because it provides Oracle Essbase users with the following benefits:
Automates sophisticated business processes

Reduces spreadsheet risk

Reduces spreadsheet count

Increases spreadsheet quality

Eliminates Excel lockups and crashes
Dodeca adds functionality to Oracle Essbase, Smart View, Hyperion Financial Reporting & Planning
Tailors applications to exact business requirements

Provides the best aspects of Excel

Removes the worst aspects of Excel

Focuses on customer success

Features superior technical support

Increases user productivity saving time and money

Reduce spreadsheet risk

and improve data quality
How does Dodeca improve productivity, reduce spreadsheet risk and increase ROI on Oracle Essbase?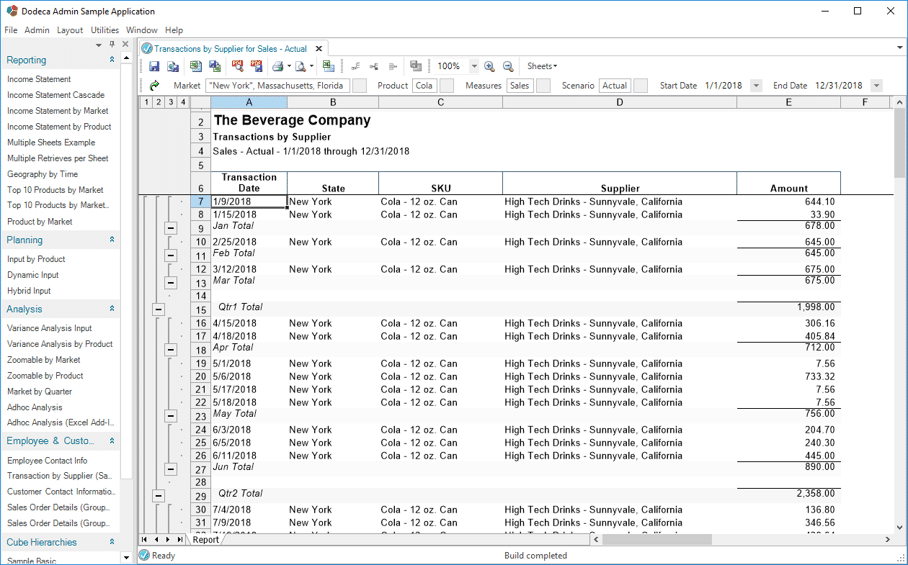 With the Dodeca Spreadsheet Management System, users can write back to both Oracle Essbase and SQL data sources using a single interface, significantly simplifying reporting, data analysis and other data intensive business processes. The ability to write back to Essbase and SQL sources enables users to enhance their Oracle Essbase reports with external data in an efficient manner, saving the organization time and money.
Dodeca V8 introduces EssJet technology, which allows Dodeca to run multiple Essbase retrieves, or sends, at the same time. Dodeca can now simultaneously run multiple queries from a single sheet or from multiple sheets in a workbook, which greatly enhances performance.
Read more about how our new EssJet technology in Dodeca Version 8 allows for concurrent Essbase retrievals, resulting in faster processing of Essbase queries.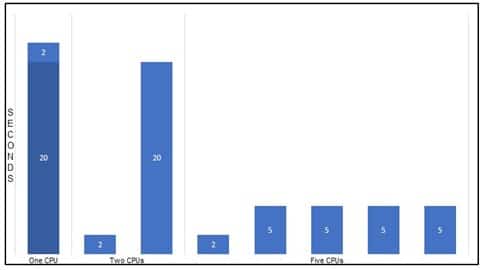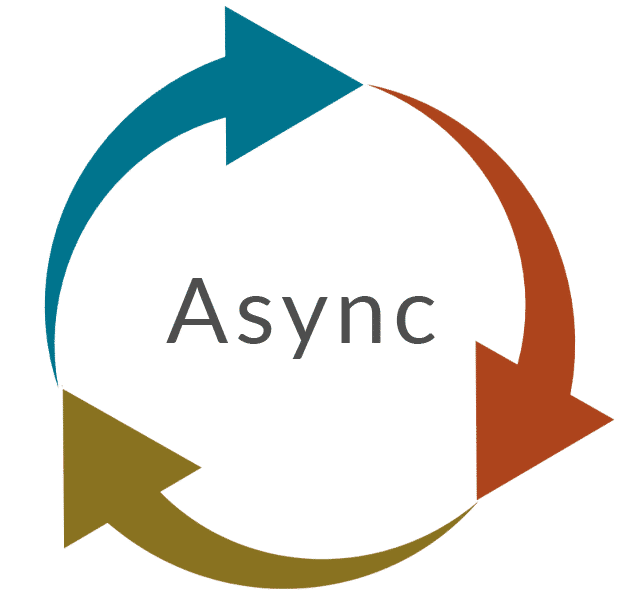 Allows most processes, including Essbase data and metadata queries, commentary queries, and startup functionalities, to run in the background freeing the user-interface for more interaction while providing the option to cancel processes.
Dodeca uses the native Excel file format, but operates independently of Excel. The building of a view and retrieval of data does not prevent the user from continuing to use the software. A user can start a build, then start a second and third build returning to the initial view at their leisure. Therefore, long running queries can be executed while a user continues to work on other tasks.
Dodeca users can attach commentary to their reports to provide deeper explanations of data points and trends. The commentary feature is especially useful in budgeting and forecasting reports. If there is a variance between the actual expense and the budget, an explanation or annotation can be inserted.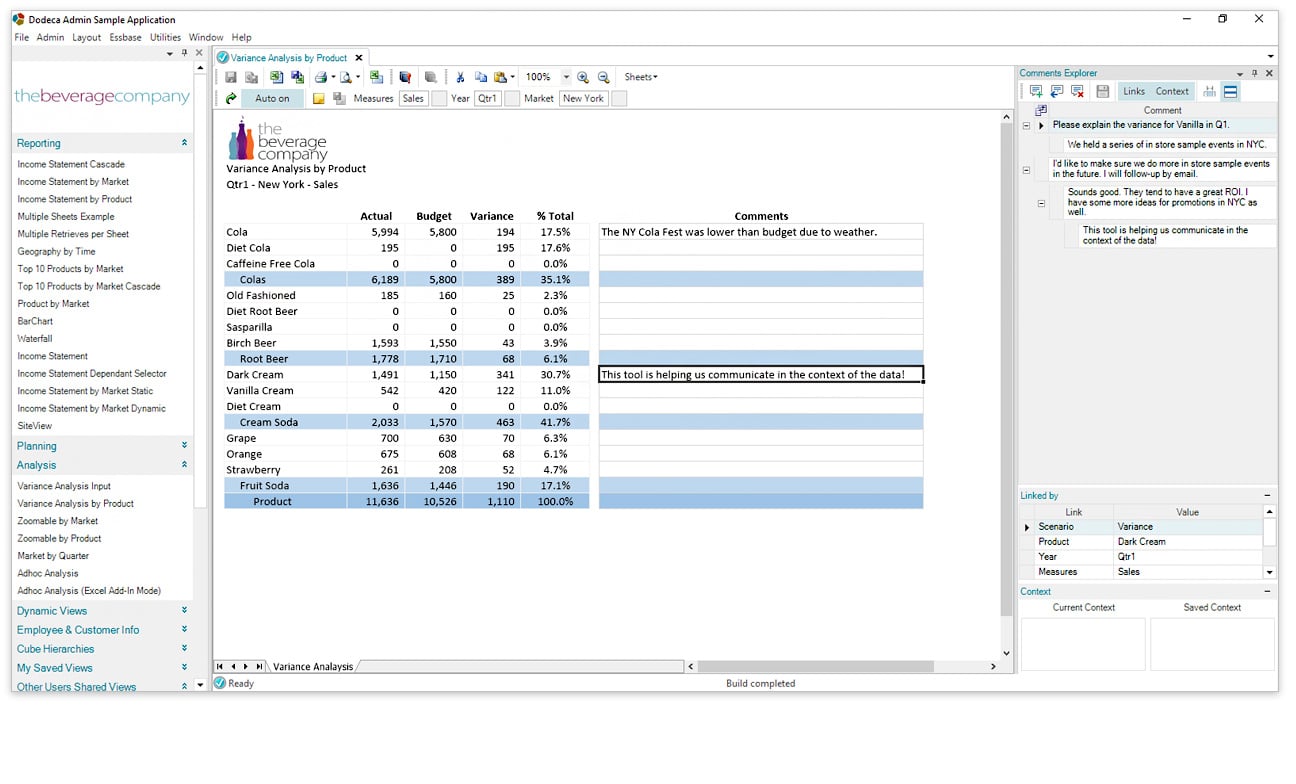 The Dodeca Workbook Analyzer can analyze and clean Excel workbooks. This gives an administrator the ability to clean old workbooks which often contain unnecessary artifacts such as dead Excel links, #REF range names, extraneous styles, and unused Smart View data streams.