Dodeca simplifies, extends and improves Essbase performance by combining the best of features of Hyperion Financial Reporting, Hyperion Planning & Smart View
Dodeca is a Spreadsheet Management System built for Essbase
Dodeca's customizable extensibility takes Essbase and the spreadsheet experience to the next level.
Automates sophisticated
Essbase reporting & business processes
Reduces spreadsheet risk
Increases spreadsheet quality
Reduces spreadsheet count
Eliminates Excel lockups and crashes
Gives end users access to the best Excel features
Controls the worst of Excel
Tailors applications to business requirements
Increases Essbase user productivity, saving time and money
Features superior technical support
Focuses on customer success
Why change your business processes to fit a software package?
Dodeca is built to save Oracle Essbase users time, money and headaches by simplifying and accelerating the Essbase reporting and spreadsheet management process while retaining the familiar Excel-like spreadsheet interface for generating and analyzing reports. 
So exactly how does the Dodeca Spreadsheet Management System (DSMS) make the Oracle Essbase experience better for users and organizations?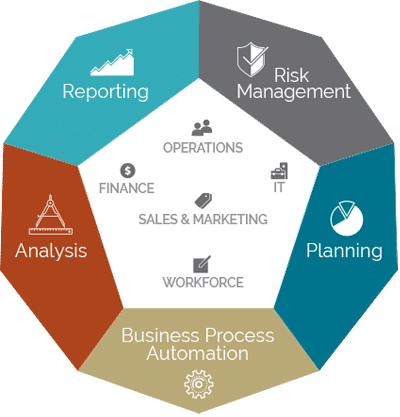 Dodeca Does It!
Companies utilize the many features of Dodeca to run mission critical spreadsheet applications and for Essbase reporting:
Fast and easy interaction with Essbase and SQL
Write-back to both Essbase and SQL
Concurrent Essbase Retrievals with EssJet Technology
Asynchronous Environment allows background processing
Commentary to gather, organize, and store variance analysis
Drill-through to everywhere
Audit Logging to provide true accountability
Access multiple data sources in a single report
Spreadsheet Workbook Analyzer and Cleaner can remove unnecessary artifacts from Excel
HFM Connector
Configurable POVs
High performance Essbase ad hoc capability
Flexible, event-driven extensibility
Ready to see Dodeca in action?
Let us show you how Dodeca has changed the way people view and use their data.
INSERT DODECA SAVINGS TIME TICKER HERE…
Benefits of Dodeca V8
Concurrent Essbase retrievals with EssJet technology
Asynchronous environment allows background processing
Workbook analyzer and cleaner
HFM Connector
Single Sign-On (SSO) support
Dodeca Delivers Results for Organizations Across All Industries
Dodeca Significantly Improves Essbase ROI & User Adoption
Dodeca was built to help any organization looking to improve their Essbase productivity and ROI. No matter your industry, line of business or size of organization, Dodeca delivers time savings and simplified reporting processes.
Dodeca saves organizations using Essbase time and money:
Global Provider of Legal, Regulatory, and Business Analytics realized annual savings of 13,000 hours, or 50%, producing management reports
One of the world's largest banks estimates savings of $14,000,000 for CCAR reporting to the federal government
Fortune 25 company estimates retail operation cost reductions of $200,000,000 over 3 years
International luxury hotel & resort company maintained hundreds of manually ­prepared spreadsheets to track unique contractual terms for each of its 120+ luxury properties.
Dodeca improves Essbase performance by combining the best of
Hyperion Financial Reporting, Hyperion Planning, & Smart View
Dodeca Makes Essbase Better
Dodeca Saves Essbase Users Time By Simplifying & Accelerating the Process of Reporting, Budgeting, Planning, & Analytics
Here are just 12 of the many reasons Essbase users love using Dodeca for their reporting needs.
Ease of Use: Dodeca is so easy and intuitive to use that users at all levels of an organization can use Dodeca with little or no training.
Reliability: Dodeca reduces the risk associated with spreadsheets by dynamically combining centrally-managed spreadsheet templates with Essbase and/or relational data on demand.
Productivity: Dodeca helps users get their work done more quickly, easily, efficiently, and productively.
Integration: Dodeca provides a single, unified front end for analysis, planning, and reporting that integrates data from all corporate data sources.
Capacity: Dodeca easily handles large sets of Essbase and relational data.
Performance: Dodeca features extremely fast Essbase and relational retrieval performance.
Flexibility: Dodeca is extremely flexible, highly customizable, and uniquely well-suited for many different types of applications.
Scalability: Dodeca is highly scalable, easy to deploy and support, and it requires less effort and computing resources than other available systems.
Intelligent Navigation: Dodeca allows users to quickly and easily drill down to the general ledger and other transactional systems, regardless of where the data is located.
Auditability: Dodeca helps adherence to regulatory requirements by maintaining an audit trail of spreadsheet and configuration changes.
Report Authoring: Dodeca enables rapid report creation through point-and-dick configuration and by leveraging existing spreadsheet skills.
Essbase ROI: Dodeca helps customers successfully complete Essbase projects on time and on budget, achieve corporate financial goals, and exceed end-user expectations.
Dodeca can be utilized by Essbase users in various scenarios and applications for planning, reporting and analyzing Essbase data, including:
Financial Reporting

Revenue & Expense Planning

Workforce Planning

Capital Planning

Merchandise Planning

Cash Flow Analysis

Regulatory Reporting

Variance Analysis

Sales Analysis

Labor Reporting

Forecasting

Annual Budgets
Dodeca & Hyperion Financial Reporting
How can Dodeca complement Hyperion Financial Reporting?
Some of our clients ask, "my company already has Hyperion Financial Reporting, so do I need Dodeca?"
Many of our clients also have Hyperion Financial Reporting. Hyperion Financial Reporting, or HFR, is used by Oracle Essbase customers who need to publish standardized reports in HTML or PDF format. HFR also features batch/burst capability that can be scheduled to create and distribute reports automatically.
Like Dodeca, HFR has a managed repository of reports and easy-to-use, point-of-view selectors, but the HFR report format lacks the layout and formatting flexibility and robust calculation capabilities of spreadsheets. Clients in the accounting and finance disciplines use Excel day-in and day-out and prefer data in Excel format. Dodeca presents the data in the format these users expect. Creating reports is easy for report developers, because they can leverage their existing spreadsheet experience without extensive training. In addition to reporting, Dodeca supports analysis and planning applications.
Dodeca is extremely flexible, highly customizable, and uniquely well-suited for many different types of applications. Our clients use Dodeca for a wide variety of applications, both large and small. Dodeca scales to handle applications with thousands of users, yet it is simple enough to be quickly, easily, and inexpensively deployed for small applications.
Common applications that Oracle Essbase and Hyperion Financial Reporting users find Dodeca useful for include:
Reporting, either instead of or along with Hyperion Financial Reporting for corporate, divisional, and retail store reporting.

Planning, where Hyperion Planning does not meet their business requirements or where they wish to use Essbase as their budgeting, planning, or forecasting engine.

Analysis, where clients need the ability to easily investigate the details supporting the numbers and where they need to annotate and summarize their findings.

Management, for operational tasks as varied as merchandise planning, store location planning, and weekly forecasting.
Dodeca & Oracle Smart View
What can I do with Dodeca that I can't do with Oracle Smart View?
Dodeca has many capabilities that are not provided by Smart View. One of the biggest differences is that Dodeca makes it easy for developers to design, publish, and distribute dynamic spreadsheet reports using the popular Excel format, filled with Essbase and/or relational data, in a matter of minutes.
With Dodeca, you can leverage the powerful calculation capabilities, charts, and easy-to-use formatting of spreadsheets and deliver customized applications to your entire user base from the entry level to the top level executive. As the report developer, you control the spreadsheet report templates and the settings used to build reports, and you can make sure your users have spreadsheets that are accurate and error-free.
Dodeca is optimized for Essbase performance and allows users to retrieve very large datasets very quickly. We recognize the continuing popularity of the classic Excel add-in for Essbase, so we modeled Dodeca's ad-hoc capabilities on that popular product and have expanded them based on feedback from our clients.
Many of our clients ask, do I need Smart View, Excel, or the Essbase Excel add-in to run Dodeca?
No. Dodeca is a dedicated spreadsheet application that is independent from Oracle Smart View and was built to use the Excel file format without the need for Excel. Dodeca supports the Excel 97 through Excel 2013 formats. The Dodeca Spreadsheet Management System supports 398 Excel functions.
My company already has Smart View, so do I need Dodeca?
Smart View is a solution that provides Microsoft Office integration to a number of Oracle products, including Essbase. In many companies, Smart View is first put into the hands of the spreadsheet gurus, who figure out how to use it and then train the less spreadsheet-savvy users. The value an individual realizes from Smart View is directly proportional to the skills they have as a spreadsheet user.
Smart View has no central spreadsheet repository, which means you have no managed control over the spreadsheets. You are unable to easily leverage the skills of the more experienced spreadsheet users to ensure spreadsheets are properly constructed and, more importantly, contain accurate information.
But, Dodeca goes further. Dodeca's central spreadsheet repository ensures that your users get the most up-to-date spreadsheet template, populated with the current Essbase data, and retrieved from the correct Essbase database. Dodeca users get the answers they need fast and dependably.
Unlike Smart View, Dodeca requires little to no training to use. In other words, Dodeca makes Essbase easy. Dodeca connects to relational databases from the Dodeca server using JDBC technology and supports nearly every database that is JDBC compliant. The most common relational databases used with Dodeca include Oracle, Microsoft SQL Server, IBM DB2, and MySQL.
Ready to see Dodeca in action?
Let us show you how Dodeca has changed the way people view and use their data.
INSERT DODECA SAVINGS TIME TICKER HERE…

Dodeca Customer Time and Cost Savings
Global Provider of Legal, Regulatory, and Business Analytics
60d 02h 20m 33s
US Largest Supermarket Chain - Fortune 25 Company
$30053569.27
What will be your Dodeca Savings Time (DST)?