Dodeca


 Spreadsheet Management System
Version 8 – Featuring EssJet Technology
Dodeca integrates the best features of Hyperion Financial Reporting (HFR), Smart View, and Hyperion Planning into a single product.
Dodeca also adds extensibility, allowing customers to tailor reports & meet sophisticated business needs
Why change your
business processes to fit a
software package?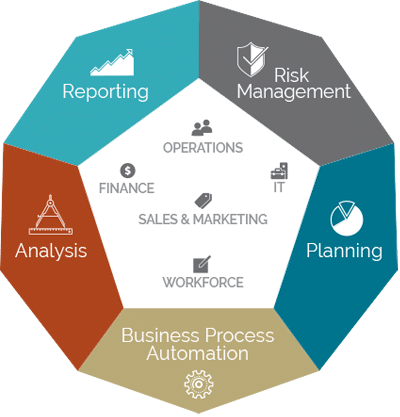 Dodeca provides the flexibility to build applications that fit the needs of your business without being forced to compromise requirements. Dodeca was purpose built for Essbase. The software enhances the Essbase user experience. Dodeca provides Essbase and SQL data sources in a familiar spreadsheet interface. If you are a current user of Smart View, Hyperion Financial Reporting, or Hyperion Planning, Dodeca might be a great solution for your organization.
If your users are struggling with Essbase performance, maintaining data integrity, or managing spreadsheet risk, then Dodeca may be the solution for improving your corporate financial systems.
Dodeca is used for many types of applications:
Financial Reporting
Revenue & Expense Planning
Workforce Planning
Capital Planning
Merchandise Planning
Cash Flow Analysis
Regulatory Reporting
Variance Analysis
Sales Analysis
Labor Reporting
Forecasting
Annual Budgets
Dodeca Spreadsheet Management System V8 Featuring EssJet Technology
Business process automation
for planning, reporting, and analysis.
Automates sophisticated
business processes
Reduces spreadsheet risk
Increases spreadsheet quality
Reduces spreadsheet count
Eliminates Excel lockups and crashes
Gives end users access to the best of Excel
Controls the worst of Excel
Tailors applications to business requirements
Increases user productivity saving time and money
Features superior technical support
Focuses on customer success

Dodeca Does It!
Companies utilize the many features of Dodeca to run mission critical spreadsheet applications:
Fast and easy interaction with Essbase and SQL
Write-back to both Essbase and SQL
Concurrent Essbase Retrievals with EssJet Technology
Asynchronous Environment allows background processing
Commentary to gather, organize, and store variance analysis
Drill-through to everywhere
Audit Logging to provide true accountability
Access multiple data sources in a single report
Spreadsheet Workbook Analyzer and Cleaner can remove unnecessary artifacts from Excel
HFM Connector
Configurable POVs
High performance Essbase ad hoc capability
Flexible, event-driven extensibility
Ready to see Dodeca in action?
Let us show you how Dodeca has changed the way people view and use their data.