Table of Contents
Introduction to Dodeca

Dodeca's Value Proposition: The Spreadsheet Dilemma
Dodeca's technical features

What is drill-through reporting?
What are the benefits of Dodeca's drill-through reporting for Essbase users ?
How does Dodeca make drill-through reporting happen without all the hassle and cost of other solutions?
What features are included in Dodeca's drill down reporting?
What can Essbase users do with Dodeca's drill through/drill down reports?
Dodeca vs Essbase Studio for drill-through reporting
Drill-through reporting examples using Dodeca

Sales data by product and market
Sales data across multiple products and multiple geographic regions
Drill-through on Essbase roll-ups
Drill-through to cascade report
Relational to relational drill-through
Income statement view
Introduction to the Dodeca Spreadsheet Management System
Varying types of databases can contain different levels of data. See how Dodeca can increase your productivity by allowing you to drill from one database to another. Dodeca gives you the ability to drill from Essbase to Relational data to view more detailed information. It also allows drilling from Essbase to Essbase and Relational to Relational. We'll show several examples in this webinar.
Dodeca's Value Proposition: The Spreadsheet Dilemma
Users love spreadsheets because they're familiar, flexible and ubiquitous.
IT and Internal Audit teams hate spreadsheets because they have no standardization, little to no accountability and a high risk of error.
Dodeca bridges the gap between Users and IT/Internal Audit.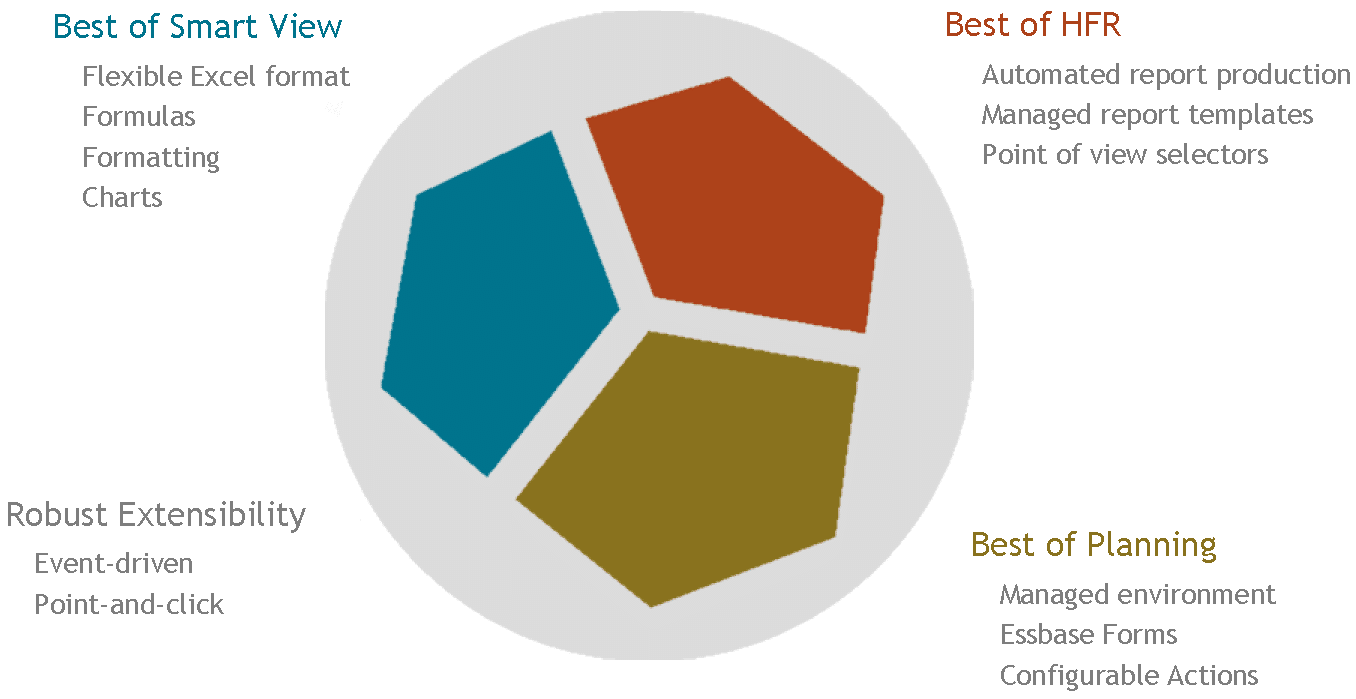 Dodeca is a high productivity spreadsheet platform. It was imagined in the context of what we see in the Oracle EPM world.
Dodeca was built with an extensibility model in mind, to combine and expand upon features offered by other Oracle EPM products. Dodeca allows Essbase users to build EPM applications tailored around your business.
Dodeca's technical features
Essbase read/write capabilities
Relational read/write capabilities
Configurable point-of-view selectors – allows easy navigation for users
Drill-through – allows you to go through one report to another and one level of detail to another

Essbase to relational drill-through/drill-down reporting features
Relational to relational drill-through/drill-down reporting features

Commentary
Audit logging
Event driven extensibility
What is drill-through reporting?
EPM systems summarize data and they allow users to drill into detail. However, in EPM systems, users often get to a point where they can't drill any further into the report's data and they tend to either give up on finding the data they're seeking, or are forced to to log into another reporting application/platform and drill through reports to find the desired data. This process either leads to uninformed business decisions in the event the user doesn't find the data they're looking for, or it kills productivity if they need to start their reporting/analysis process from scratch in a different application/platform.
Drill-through breaks through the bottom layer of data in the Essbase cube and allows users to pass from one source of data to another while staying in a single reporting platform.
Other drill-through solutions often require complex configurations and often require additional developer tools, making them costly and difficult to implement, especially in large organizations. Additionally, many of these other solutions lack the flexibility that Dodeca offers its users.
What are the benefits of Dodeca's drill-through reporting for Essbase users ?
Benefits of adding Dodeca to an Oracle Essbase environment:
Dodeca makes Essbase easier to use

Facilitates adoption of Essbase across organizations and departments
Our largest client has over 50,000 Essbase users
Opens Essbase up to the masses and people in the organization who typically aren't Essbase or even spreadsheet users
Dodeca's highly customizable drill-through reports can be easily implemented by users, including those outside of IT

Increases productivity
Increases accountability
Reduces spreadsheet risk
Reduces costs

Typical Dodeca implementation and maintenance costs are much lower than any alternative or substitute available on the market today
How does Dodeca make drill-through reporting happen without all the hassle and cost of other solutions?
Reports in Dodeca are known as "Views" and they can be made up of one or more worksheets. Dodeca Views come in a variety of types, including:
Dodeca intelligently passes contextual information from one view to another, which is the key to making drill-through easy to setup and use.
What features are included in Dodeca's drill down reporting?
Main components of the Dodeca platform (ADD SCREENSHOT TO RIGHT WITH NOTES)
View selector (left sidebar) – people pick reports they want to run
Point of view selectors – make it easy to navigate and to select content shown in report
Tree view navigation (right sidebar) – ability to create lists and drop down selectors

reads directly from Essbase – selectors are very configurable so you can pare back what a user sees in the report depending on their needs

Excel spreadsheet (middle pane)- live spreadsheet stored in the Dodeca system

Includes all of the functions, formatting, conditional formatting and charts from Excel
However, the spreadsheet in Dodeca is a protected environment so you can control everything, allowing you to write fool-proof applications using the Excel file format that everyone is familiar with.
Advantages of using Dodeca for drill-through reporting:
Reports can be created by users, including those outside of IT

Easy to implement – assuming data is in good shape, production quality reports can be run upon installing Dodeca
Highly customizable – up to admins to structure the drill-through data paths for reporting

Completely flexible drill-through reporting

Essbase to Relational (i.e. SQL)
Relational to Relational
Essbase to Essbase
Essbase or Relational to Webpage
What can Essbase users do with Dodeca's drill through/drill down reports?
Dodeca intuitively identifies cells in the report/spreadsheet that are comprised of data that can be drilled-through into finer levels of detail.
When a drill-through is initiated on a cell in the Dodeca spreadsheet (either through a right-click menu or double click), that information is saved. When the next view is opened, the data for that drill-through report is automatically populated, even if it's from another source such as a SQL relational database.
It's important to mention the no manual intervention is required by the user while drilling down from view to view, which is just one of the ways Dodeca significantly improves user productivity in drill-through reporting scenarios.
Dodeca vs Essbase Studio for drill-through reporting
Advantages of Dodeca compared to Essbase Studio for drill-through reporting:
In Essbase Studio, Essbase Cubes need to be created in Essbase Studio
Essbase Studio is at end of life and support will be ending shortly
Multiple cell drill-throughs are not supported by Essbase Studio
Drill-through reporting examples using Dodeca
Sales data by product and market
Identify a cell with sales amounts for a particular product and from a particular region/state
Right click > View Transactions on a cell with sales data to investigate further
New view is initiated from a SQL source that's prepopulated based on the cell drilled-through in the previous view
Now users will see a report showing sales for that state/region by supplier
There's grouping of the data that's performed by Dodeca on the fly to summarize data

This feature is exclusive/unique to Dodeca and comes out of the box
Sales data across multiple products and multiple geographic regions
Same process outlined above, except if you select cells that span across multiple products and regions, the drill-down report will generate data for combinations of all the selected cells
Drill-through on Essbase roll-ups
When selecting a cell- with roll-up data from Essbase and View Transactions, the view will populate with all the members that comprise those roll-ups.
This can be done with a simple configuration setting in Dodeca so this intuitive feature is available to Essbase users
Drill-through to cascade report
Cascade reports can be created when you need to run the same report with different points-of-view
For example, you want to see an income statement for every market within a region
Dodeca allows users to select multiple cells in a report and send those to a cascade report
When you click through it will show all combinations of all members selected, each generating their own report
Relational to relational drill-through
Example: list of orders from Microsoft Adventure Works DB
Shows list of orders with order ID, tracking information and sales totals
Double click order ID cells to drill-through and open a new view
Now you can see all the products that comprise that order ID
Hover over cells with notes to see which cells have additional drill-down data
Double click on sales person column to generate a new SQL view that automatically generates with that salesperson's contact info
If Product ID cell is double clicked, it generates a web view of the product page with additional product data
Income statement view
Finance users often find themselves working with highly formatted reports, but they want the ability to drill-through those reports
Typically, users need to create a new sheet and setup Essbase retrievals manually, which is time consuming and complex, especially if this has to be done frequently
Dodeca can setup a view to allow an intersection to be sent to ad-hoc, so users can zoom in and pivot on data, just like Excel users can do
Drill through from one cube to another, such as a summary Essbase cube and a more detailed Essbase cube
When a cell is right clicked, that data intersection can be opened in a new view